Cermaq aims to improve fish health and welfare with iFarm
By using artificial intelligence and machine learning, Cermaq will be able to identify each fish in a net pen, allowing for targeted health interventions if required and individualized health records for each individual fish. The iFarm five-year project is the first of its kind and will allow for an individualized fish approach to salmon farming. Now, the first fish have been transferred in Cermaq's iFarm.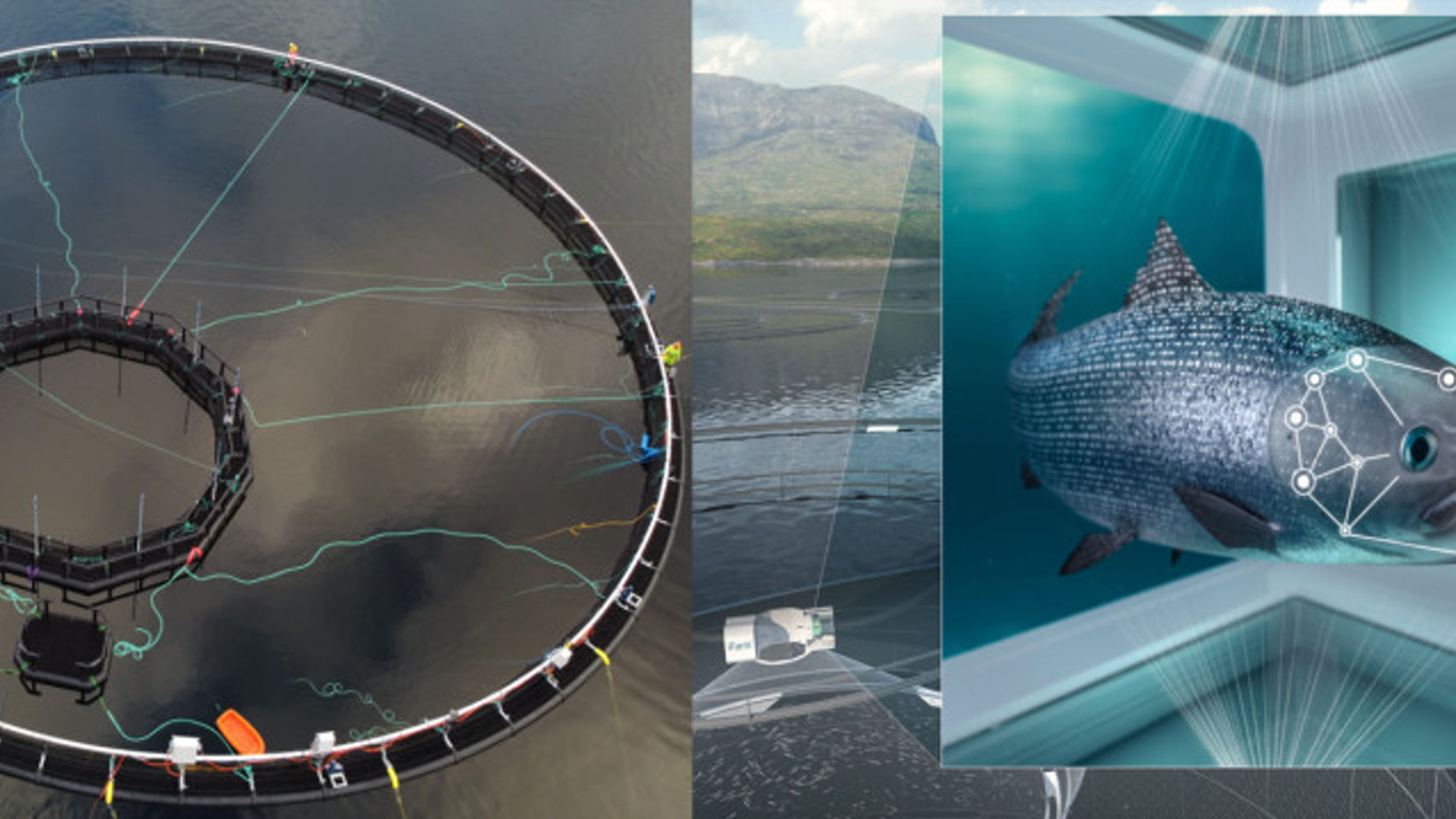 Last December, Cermaq Norway was awarded four development licenses for iFarm, and preparation work started in January. Since then, thanks to the efforts and support of many people across Cermaq, BioSort – the developer of the technology, and ScaleAQ, who has supported the delivery of the system, the various components of iFarm are taking shape and we have been able to successfully install the system.
First smolt ever in iFarm
Last week, the project rounded a big milestone when the first smolt was transferred in the iFarm pens.
"This is a very exciting and important phase in the project; now we will see how the fish behave in the actual iFarm environment, and whether our modelling and predicted outcomes for behavior are accurate," says Karl Fredrik Ottem, Cermaq's project manager for iFarm.
In iFarm, the fish are kept lower in the system using a net roof. When the fish rise to the surface to refill their airbladders, they are guided through a portal, or chamber, where a sensor can quickly scan, recognize and record data on that specific fish using recognition data based on each fish's unique markings and structure.
"A prototype of the sensor itself will not be in place until November, allowing the fish to become used to their new environment over the coming eight weeks. Until then, we will spend time observing the fish's behavior in the cage, how they move and how they eat, so that we can make any adjustments before we install the sensor. In addition, this time will allow us to develop and implement good operating practices as this is a new farm installation and we know we will need to adapt our practices," added Ottem.
Equipment assembled and launched during summer
The iFarm system is initially installed in two pens with slightly different layouts of iFarm. The equipment for the pens was delivered early this summer, with parts of the system being assembled and installed on land in Nordfold in Steigen. The pre-assembled equipment was then transported to the sea site at Martnesvika, where the final assembly of nets was completed.
"We have a very close and good partnership with both BioSort and ScaleAQ, and so far, we are on schedule," says Ottem. "For us at Cermaq, especially those of us working within the project team, it is incredibly exciting that we now have come to the milestone where fish has been transferred and we are all looking forward to the exiting trial ahead once the sensors have been installed."
The technology will, if the project is successful, represent a leap forward for our ability to secure fish welfare, and for performance and overall farming practices.
"What we are trying to achieve with iFarm is to develop a technology that, in the long-term, can lead to better fish health and welfare and help strengthen the competitiveness of coastal farming. We have high expectations that the health and welfare of the salmon can be improved with iFarm, if we succeed," added Ottem.
Five-year project
The iFarm project trial will run until 2025, and Cermaq recognizes that we are in the very early stages of the project and that it is a very complex system which will require sophisticated interaction between farming equipment, machine vision and fish behavior in full scale. Here, advanced underwater technology will be developed, and it will work in close interaction with the fish. The knowledge and experience gained from this first stocking of fish will be used to optimize the design for the second stocking, which is planned in 2021.
This is iFarm:
iFarm is based on a technology that makes it possible to recognize, record and track each individual fish in the system, and maintain an individualized health record, and allow for targeted health interventions, when required. It will provide better fish health and welfare and will be a leap for the aquaculture industry.
Each iFarm system can house approximately 150,000 fish. The salmon is kept lower in the pen by means of a net roof. When a fish rises to the surface to fill its swim bladder with air, it is guided through the iFarm sensor, which scans each fish and uses automatic image processing to recognize each individual fish.
Weight and weight development of each individual fish are measured. Lice are counted on the whole fish, including early stages of lice. Any wounds and signs of illness are also registered in the fish's health record.
iFarm can sort the fish so that any treatment is adapted to the individual's needs and you only treat fish that need it - without handling or sorting which is stressful for the fish.
iFarm generates reports for all desired data. There is a lot of detailed data about each fish - data you can trust. This will simplify management and provide a better basis for knowledge-based decisions.
If the development of iFarm is successful, it will be possible to use it on both existing and new aquaculture sites along the coast.
Press contacts